What is BIOS Assured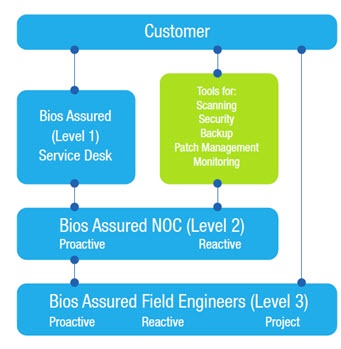 Your infrastructure represents the foundation on which your entire IT environment is built upon and is a key component of your business.
Most companies devote 80% of their IT resources to simply maintaining the status quo: troubleshooting, reacting to issues, patching, provisioning, etc. That leaves little time to devote to strategic activities and address new opportunities that could deliver real value to the business.
BIOS Assured is a Managed Service offering. We look after your Day to Day IT mundane infrastructure management so you can focus on looking after your business.
What's included in BIOS Assured
RMM + Service Desk+ NOC + Field Engineers = BIOS Assured
Remote Monitoring & Management (RMM) Tools on your Network provide Constant real time information and alerting on all your IT resources. Our monitoring solution is delivered via a SaaS-based management portal, and will dramatically increase your operational efficiency – allowing us to easily monitor, troubleshoot, and maintain all your IT infrastructure in real time.
Service Desk. Our Service desk is based in Dubai, UAE and operates 24x7x365. The service desk is integrated with RMM to provide first line support and alert monitoring 24x7. In addition the service desk logs and updates all service tickets in real time.
BIOS Assured NOC
Our NOC, staffed by the very best engineers in the Middle East provides pro-active and reactive support to our Assured customers.
BIOS NOC technicians proactively maintain client systems and actively resolve system issues. Your staff are continuously updated and you maintain the client relationship.
Our NOC has developed extensive expertise as they manage nearly 50000 devices around the Middle East. We continuously capture, document and codify our experience in the form of business rules and a knowledge base, so that our NOC technicians and partners can have quick access to the recommended steps for problem resolution.
BIOS Assured Field Engineers
The final key component for BIOS Assured is our field engineers that are DEDICATED for managed Service customers. They are ready and waiting to work side by side our NOC engineers for events that cant be solved remotely. In addition they also have a list of Proactive tasks they are sheduled to undertake for all our Assured customers.
In addition to all the above, the service included a compressive monthly IT infrastructure health check for complete peace of mind.
BIOS Assured is sold for a fix monthly cost and is priced based on your unique environment meaning you only pay for what you need. For a free consultation click here