Cisco and VMware provide Cloud Automation with CIAC equals true ITaas

Back in February, Cisco and VMware announced to a strategic partnership by combining Cisco Intelligent Automation for Cloud (CIAC) and vCloud Director to help customers in Dubai and the UAE accelerate their journey to cloud computing.
BIOS, already a VMware premier partner with specializations covering Vcloud Director have now also now completed the Cisco CIAC ATP. In our (humble) opinion combing Vcloud Director and CIAC is….. WOW. This marriage has produced the perfect Cloud Orchestration platform.
So what is CIAC?
CIAC is a self-service provisioning and automation software solution that integrates with vCloud Director and enables a singular interface, governance model and orchestration for both virtual and physical infrastructure. By building secure clouds with the foundation of vSphere and VMware vCloud Director, internal IT organizations can act as true service providers for the businesses they support, driving innovation and agility while increasing IT efficiency.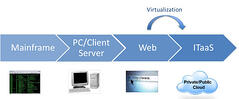 This joint solution provides a logical path to cloud computing by giving both customers and end-users the power to leverage existing investments and the flexibility to extend capacity among clouds. In short, with these products companies in Dubai and the UAE can implement true IT as a service (ITaaS).
Why use Vcloud Director with CIAC?
Well theres a number of reasons:
1) vCloud Director pre-built virtual datacenter models promote a seamless integration with CIAC and virtually eliminates manual work required for future infrastructure upgrades and change
2) vCloud Connector, built upon vSphere and vCloud APIs, enables transfers of workloads between private and public clouds for hybrid cloud use cases
3) Built in Chargeback – enabling line of business owners to have full cost transparency and accountability for resource requests
When you combine, CIAC and vCloud Director you get: IT Elastic Infrastructure Service (ITEIS).
Who should consider this solutions:
Any enterprises (500 users and up) looking to implement a user-friendly experience and highly scalable cloud infrastructure.
To learn more about CIAC and vCloud Director, as well as other joint solutions including UC on UCS, Nexus 1000V and Virtual Experience Infrastructure (VXI) please contact us for a demonstration