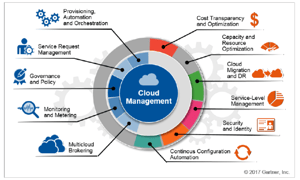 The growth of Hybrid Cloud
Global Cloud adoption is growing at a breath taking pace changing forever the way enterprise think about how they deploy and manage their IT. Gartner recently said Cloud would become a 300B industry by 2022. However, companies still in general keep part of their IT infrastructure On Premise, usually in a heavily virtualized or private cloud environment. This approach is known as Hybrid cloud and almost all businesses are now adopting it.
The rapid emergence of Multi-Cloud
As companies grow more confident in using the public cloud and begin to realize the huge cost saving advantages, speed to deployment and scalability they increasingly become cloud first when thinking about how to deploy new IT infrastructure or use applications. What has become apparent to most companies is that different clouds have different advantages for different circumstances and at different costs. This has lead companies to use several clouds and this is known as Multi-Cloud. Gartner says by 2022, 80% of companies leveraging the cloud, will have a Multi-Cloud approach.
What does this mean for the Middle East?
It used to be that there were few options for in-region cloud computing. In 2014 when we committed to focusing on being a managed Cloud Service Provider, there were none. We had little choice than to build our own cloud, CloudHPT, a Cisco powered VMware cloud. And we are glad we did as it is now one of the largest cloud offerings in the Middle East. However, times are changing and a new exciting era of cloud computing is being ushered in, First with the announcement of AWS Bahrain, due to launch in 2019 and then with the announcement of Azure UAE, due to launch any moment now. Customers will soon have multiple clouds to choose from, each with various advantages at various costs and different billing mechanisms.


Why might someone use Multi-Cloud?
Hyper-scales come with great technology and innovation, such as Big Data Analytics, AI, Superb ecommerce development tools or perhaps state of the art Unified Communication. However, hyper-scalers also usually charge a premium and the costs can be difficult to understand as there is not only the cost of the workload but also other costs such as data ingest and usage costs. So if certain workloads don't need these high end features, which often many do not, they can be hosted on more cost effective alternatives, some with all-inclusive billing. Using a Multi-Cloud approach allows companies to have access to the most advanced technology available at a price, but only where they need it.


5 challenges when using a Multi-Cloud approach
While multi cloud undoubtedly offers most businesses considerable advantages, such an approach does not come without risks that are important to address. Namely;


Lack of visibility- can lead to cloud sprawl.
Unpredictable billing- which can lead to 'Bill shock'
Governance- across multiple clouds can be a challenge.
Management- is complicated if not unified across multiple clouds
Security is perhaps one of the most important considerations. As applications and data migrate outside a company's firewalls they become more vulnerable than ever if not properly secured.
Addressing the challenges of Multi-Cloud and unlocking its benefits
Luckily, there is a solution.


BIOS Multi-Cloud is a unified portal that will show you where all your workloads are located regardless of which cloud they are on. Allow you to deploy workloads on any clouds you use, define custom hardened workloads, see the prices of these workloads on various clouds and also ties into our Management and Security platform.


Download the The CIO's ultimate guide to Multi-Cloud to find out more OR