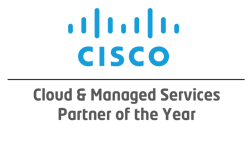 September 12, 2021, Dubai, UAE: BIOS Middle East (BIOS), the Middle East's leading local cloud and managed service provider, has announced the renewal of the Cisco Gold partnership on multiple levels, including the Gold Service Provider and Service Integrator certificates. With the recognition, BIOS expands its role as a trusted Cloud and Managed Service Partner for organisations across the GCC that look to Cisco advanced solutions for an unmatched digital experience. Cisco recently released new requirements for its partners, and the new achievements acknowledge BIOS' leadership and investments across all areas of cloud, networking and security.
BIOS will continue to provide Cisco Gold technology and services across more GCC markets to meet the complex demands of today's organisations. The UAE's #1 provider of cloud services recently extended its cloud footprint to Riyadh and Jeddah in Saudi Arabia and Muscat in Oman. The three new cloud zones support extended digital transformation services for companies in Saudi Arabia and Oman, allowing them to meet local and regional data compliance requirements, including for neighbouring country organizations such as Kuwait and Bahrain.

"As GCC institutions look to work with secure and trusted technology providers, this validation highlights the unique benefits of our services for customers, providing them with secure managed cloud services that put them a step ahead of their competition with a focus on the return of investment," said Adam Wolf, Director, BIOS.

By achieving the two Cisco Gold Partner levels, BIOS has demonstrated its ability to design and implement advanced solutions in the following areas of specialisation:

advanced data centre,
advanced security architecture,
advanced collaboration architecture, and,
advanced enterprise network architecture.

The new recognitions for BIOS follow the largest change to the Cisco Partner Program in over a decade. Announced last October, the tech giant's widely recognised program has expanded and differentiated its partnership roles to help its partners offer stronger lifecycle and Everything-as-a-Service opportunities. Gold is the highest and most sought-after status in the Cisco Partner Program.

BIOS Middle East works with several leading global vendors and is focused on providing a range of public and private clouds as well as managed services in the region. The company has customers from several industries including financial services, healthcare, insurance, oil and gas, retail and more. Founded in 2002, BIOS Middle East services hundreds of leading organisations across the region to enhance their IT operations and reduce costs.