UAE, Sunday, 16th December, 2018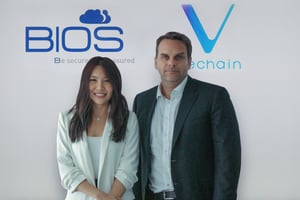 VeChain, a global leading public blockchain platform focusing on enterprise adoption and BIOS Middle East, the UAE's leading Managed Cloud Provider have signed an MoU to co-market and implement a framework of blockchain-as-a-service and blockchain-enabled cloud services.
VeChain's wide range of blockchain solutions for enterprises comprising of the Internet of Things (IoT) are ripe for major cloud service providers like BIOS Middle East to provide a variety of Blockchain-as-a-Service (BaaS) offerings to existing clientele across Energy, Finance, Retail, PetroChem and Healthcare industries in the Middle East.
BIOS Middle East and VeChain recognize that in order for large scale blockchain revolution to happen, companies will require help with designing, migrating and managing their blockchain solutions to realize its tremendous benefits.
BIOS Middle East is integrating its own Security-as-a-Service offering, known as BIOS Secured on the Vechain blockchain. This will allow for significant events to be encrypted and registered to the blockchain so that they are non-reputable, eliminating the possibility of bad actors changing logs.
"Leveraging on BIOS Middle East's expertise in Cloud Services and System integration, I believe Dominic's team will help accelerate adoption and transactions on VeChain's platform. Starting from Dubai, one of the world's blockchain-friendly states," said Sunny Lu, Co-Founder, and CEO of VeChain.
"BIOS Middle East will work with VeChain to extend its proven solutions on the blockchain to be directly accessible to Middle East and African organizations through the CloudHPT platform, which will potentially bring thousands of transactions on a daily basis." Dominic Docherty, Managing Director, BIOS Middle East.
About Vechain
Starting in June 2015, VeChain aims to connect block chain technology to the real world by providing a comprehensive governance structure, a robust economic model, and IoT integration. VeChain is the pioneer of real-world applications using public block chain technology, its notable enterprise partnerships with DNV GL Business Assurance, PwC Venture Hub Singapore, PwC Greater China & Hong Kong and recent real world collaborations with Bright Foods, BYD, PICC, D.I.G seals its position as a leading enterprise-level public blockchain platform. It has international operations in Singapore, Luxembourg, Tokyo, Shanghai, Paris, Hong Kong, and San Francisco.
About BIOS Middle East
Established in 2002, BIOS Middle East is a Managed Service and Cloud Provider with its headquarters in Dubai, UAE. With an aim to provide its 300 plus customers the capabilities they need to become cloud enabled and successful with their digital transformations, the Company provides managed services and cloud solutions with 24x7x365 support backed by a measurable SLA. BIOS Middle East's solutions include Managed Services, Security-as-a-Service, Infrastructure-as-a-Service, Disaster Recovery-as-a-service, Managed Multi-cloud across our cloud, CloudHPT, AWS and Azure and more recently Blockchain-as-a-Service.
For further information, please visit www.biosme.com and www.cloudhpt.com