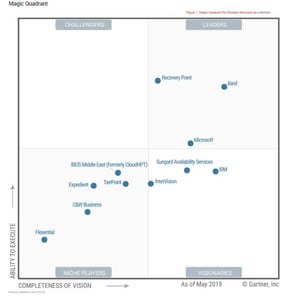 For the 3rd consecutive year BIOS Middle East is recognized as the only regional player in Gartner's 2019 Magic Quadrant for Disaster Recovery as a Service (DRaaS)
Dubai, UAE, July 3, 2019: BIOS Middle East, UAE's leading Managed Cloud Provider, announced that it has been included in the latest Gartner Magic Quadrant report on Disaster Recovery as a Service (DRaaS), for the third year in a row. Gartner's June 2019 Magic Quadrant report on DRaaS, has BIOS Middle East as one of only 11 companies globally and the only company from the Middle East on their 2019 DRaaS Magic Quadrant.
Gartner defines the DRaaS market as offering a productized service for which the provider manages server image and production data replication to the cloud; Disaster recovery run book creation; Automated failover and failback between on premise and the cloud; Network element and functionality configuration for recovery operations with the ability to support a combination of virtual and physical Source servers.
"Being the only regional player to appear in Gartner's Global Magic Quadrant for DRaaS is a testament to our commitment to offer our customer's an excellent, easy to use and affordable Disaster Recovery solution to protect their IT platforms" said Rudi Feitsma, General Manager at BIOS Middle East.
"Leveraging the cloud provides companies with an IT platform that provides on demand scale, agility, and cost benefits which is often a key step for them in their digital transformation journeys. DRaaS offers these companies a simple way to protect their business critical applications and data. We continue to support regional enterprises in all market segments and all sizes of operation in the GCC, as they embrace cloud" he added.
According to Gartner DRaaS differentiates itself from other recovery solutions as all elements of the DR-as-a-Service must be included in the service offering contract between the provider and customer with quantifiable SLA's for recovery objectives. Services may be delivered by the provider as a fully managed offering, an assisted recovery offering or as self-service.
About BIOS Middle East
Established in 2002, BIOS Middle East is a Managed Service and Cloud Provider with its headquarters in Dubai, UAE. With an aim to provide its 300 plus customers the capabilities they need to become cloud enabled and successful with their digital transformation. BIOS provides managed services, managed cyber security and cloud solutions with 24x7x365 support backed by a measurable SLA.