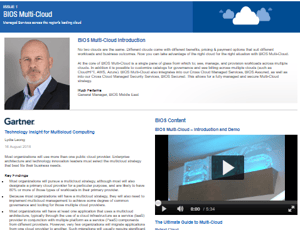 You've been hearing a lot about cloud for a long time now. But, did you know that the market size for cloud is growing exponentially and is projected to be at $317 billion by 2022 and "by 2021, at least 75% of large and global organizations will implement a Multi-Cloud capable hybrid integration platform, up from less than 25% in 2018."*

Luckily, the answers you need to build a multi-cloud strategy that will withstand the test of time is here. I'm happy to share our Multi-Cloud newsletter featuring Gartner research.

Apart from Gartner research, this newsletter includes a demo of our BIOS Multi-Cloud platform which is a single pane of glass from which you can see, manage, and provision workloads across multiple clouds such as CloudHPT, Azure and AWS.

It also has a guide and blogs that dive into the benefits and challenges of Multi-Cloud and how you can leverage and address them.