Sensitive data and applications need to be protected, but they also need to be secure and easily restored when disaster happens. BIOS in conjunction with Veeam UAE now offer Disaster Recovery in the UAE
That's why customers trust BIOS's Cloud Disaster Recovery UAE services (DRaaS) + Veeam Cloud Connect. This solution allows customers to expand their recovery options, providing a fully integrated, fast and secure way to backup and restore in the cloud.
BIOS's DRaaS + Veeam backup & replication 6 solution is a cost-effective, in the cloud repository for Veeam backups, enabling customers to recover VMs quickly into our Cloud (our cloud is located in the UAE). Our Cloud in the UAE, is a secure, encrypted, offsite, backup storage location that requires no second-site management and can quickly scale on demand when recovery is needed. Simply power on VMs in BIOS's cloud or restore into your datacenter with Veeam Cloud Connect.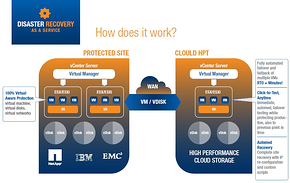 Benefits of a BIOS + Veeam Solution: for Cloud DRaaS UAE
BIOS + Veeam solutions are tailored allowing use of your own Veeam console to monitor your backups, restores and retention policies and timeframes, as well as tailored recovery point objectives (RPO) and recovery time objectives (RTO).
Full recovery of VMs and files


Many vendors can host backups, but very few provide fast access to hosted and scalable Virtual Datacenters where you can restore and run VMs and files until your primary site is back online

Hosted offsite backups


Move backups offsite to a hosted cloud repository through a secure SSL connection to BIOS's cloud with no additional Veeam licensing

Complete visibility and control


Access and recover data in hosted backup repositories directly from your backup console – track cloud repository consumption and receive reminders for hosted storage renewals

Modern backup architecture


Leverage Veeam's modern backup technology, including Backup Copy jobs with Built-in WAN Acceleration, forever incremental backups, GFS (grandfather-father-son) retention policies and more

End-to-end encryption


Encrypt all data at source, in-flight and at-rest, without negatively impacting the data reduction ratios of built-in compression and WAN acceleration
Achieve Recovery Assurance with BIOS
BIOS + Veeam Cloud Backup and Recovery is a complete solution incorporating Veeam technologies with BIOS tools and processes to ensure nothing threatens your business.
BIOS provides expansive experience in DRaaS. Receive a disaster recovery program you can count on with the ability to protect files, VMs, physical and virtual machines to address your whole disaster recovery strategy, not just backups.
Get your backups geographically separated without the cost and complexity of managing an offsite infrastructure and achieve resiliency with the ability and confidence to power up and use your Veeam backups in a highly available, secure Virtual Datacenter. To find out more contact us now or call 00971 4 3789000
To download our brochure on cloud DR