Back in the early days of computing, all resources were local. Even when machines were networked, tools for maintaining and managing computer systems were entirely onsite. Everything was handled by internal IT techs that were employed by the company that owned the computers. Much of the software that ran on these computers was purpose-built or heavily customized, requiring professional programmers to update and maintain. It wasn't long before this changed.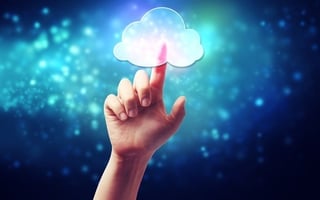 Managing services and staff internally, like we did in the old days, is extremely inefficient. When viewed from an industry-level perspective, it leads to a massive duplication of services and redundant efforts. Expertise becomes constrained, as individual veterans are siloed from one another, and cost goes up for everyone.
Today, the IT landscape is transformed, and cloud computing has helped to break up this stagnant log jam. With cloud computing, IT services are centralized in data centers and shared among those who need them. This means that companies save on staff, benefits, training, infrastructure and capital IT purchases while still enjoying the benefit of advanced integrated cloud services. Managed cloud service providers also accrue significant skill, experience and expertise, helping improve the quality of service for all their clients.
By taking advantage of cloud computing's economies of scale, companies get turn-key access to always-on, infinitely-configurable network services without the costs of network infrastructure. This agility grants flexibility to employees and clients, helping companies quickly shift to meet emerging demands and an evolving marketplace.
Thanks to these efficiencies, cloud computing offers companies a degree of flexibility that would otherwise be impossible without major infrastructure investments. Time, money and manpower is required to build a local version of a cloud service, and that time can just as easily be spent elsewhere.
As a result, managed cloud service providers now proliferate. Because these businesses focus solely on cloud computing, they're able to offer products that far surpass similar services that might be created for internal use by company employees. While some cloud providers are better than others, cloud services, on average, will typically be more reliable that internally-developed clones. While they might not offer a niche service you require, the general platform for something like multi-platform file sharing will be far more reliable and functional when developed by a cloud service provider.
Saving on development time and costs doesn't just mean saving money on infrastructure and coding time. It also means saving money and manhours on support, maintenance and repair of those same services. If you're not in the business of providing IT services, it's inefficient for employees to spend their time trying to maintain a system you could just as easily outsource. When you let cloud services "keep the lights on" for the IT department, employees can focus on what matters for your business, your clients and your continued success.
While cloud services can be truly impressive, with company-wide benefits, not every cloud provider is perfect. Like any industry, there are reputable providers and fly-by-night operations. Look for well-known, well-respected providers that you can trust, who will handle your business-critical data with care and expertise. Be sure to look "under the hood" of any cloud provider you plan to work with to ensure they're legitimate, with the infrastructure you'll need to rely on their services.
With a cloud provider that you can trust, there are huge gains to be made in power, flexibility and cost.
To find out more about our cloud services, click here