Cozmo Travel is one of the leading travel solutions provider in the GCC, a member of the Air Arabia Group. Rising from humble beginnings in Sharjah in 2010, Cozmo has grown to become a leading player in the travel industry across the GCC region, offering both online and offline travel booking services to clients in the MENA region.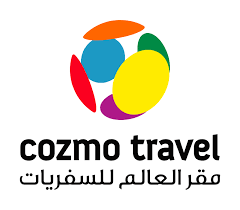 The company has grown significantly since 2010. Today, Cozmo has more than 750 employees. The company boasts 100+ branches across GCC, & India, 46 of which operate in United Arab Emirates. This expansion has led to an increasing need for a reliable, robust IT systems.
As a technology-driven firm, Cozmo relies heavily on their IT team to support exceptional service for its growing customer base. Their service operates 24/7, so they need an IT team that does the same. Services must be available to their employees, customers and stakeholders at any time, requiring around-the-clock support and monitoring of IT assets.
Cozmo Travel hosts their centralized datacenter operations in Sharjah. To support their growing business, they set out to find a suitable disaster recovery solution for their operations. As any downtime would significantly impact their revenue and brand image, Cozmo needed a DRaaS provider that could provide a seamless migration of data with zero downtime or disruption to the business.
After an intense search, Cozmo Travel chose BIOS for their disaster recovery services.
"Cozmo has unique needs as a technology-driven platform, which we're able to support thanks to a robust architecture and strong disaster recovery experience," said BIOS CEO Dominic Docherty.
Jamal Abdulnazar, CEO at Cozmo Travel, commented "BIOS's disaster recovery services allow us to confidently expand our services, knowing they have our back."
"Downtime is something that users will not put up with in the travel sector, so ensuring we have a stable solution is vital" said Vijay GB, Head of IT at Cozmo.
BIOS is recognized by Gartner in their magic quadrant as a "Visionary" for their Disaster Recovery as a Service (DRaaS). DRaaS from BIOS is a highly robust and scalable solution delivered from the UAE on their CloudHPT platform, which is a fully managed service supported by BIOS's in-country, 24/7 Network Operation Center (NOC).