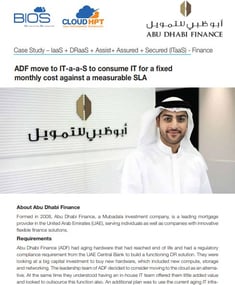 With 2022 likely to continue to be a year of uncertainty, businesses across the GCC and elsewhere are now being forced to re-examine costs and streamline operations expenditure – all while complying with new regulations.
Lessons from other players in the region can inspire leaders to find new solutions in these trying times. Leading mortgage provider Abu Dhabi Finance serves individuals as well as companies with innovative flexible finance solutions. But it needed an innovative IT solution to avoid major CapEx, streamline OpEx, facilitate remote working, and ensure compliance with Central Bank regulations.
BIOS Middle East stepped in to help streamline the lender's business.
They deployed an integrated five-step plan that achieved the following results:
• Production was migrated to an in-country cloud (CloudHPT), eliminating CapEx and improving employee collaboration
• Total protection from technology obsolescence
• Critical IT systems rehoused within T3+ datacenters
• Enterprise-class security to protect business data, backed by a SOC in Dubai
• Overall compliance with Central Bank rules
• Ageing IT infrastructure repurposed as an on-premises Disaster Recovery (DR) solution, further improving compliance
As the region's leading cloud and managed services provider, BIOS designs locally relevant solutions that deliver a measurable ROI.
For Abu Dhabi Finance, the answer lay in an integrated solution that combined security, (BIOS Secured), infrastructure (IaaS), disaster recovery (DRaaS), and support (BIOS Assist+Assured).
But every business is unique – and needs a bespoke IT solution that serves its needs. That's even more important now, in the new normal. With more than 20 years of operations in the GCC, BIOS understands the need for custom-built local solutions.
Reach out to us for a free consultation. And for a bit of in-depth inspiration, Read The Customer Story Here.