Watch Demo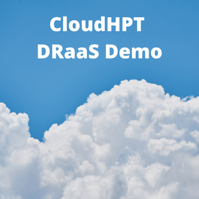 The term Disaster recovery (DR) extends to much more than a simple backup. It helps organizations regain access and functionality to their IT infrastructure after a disaster.
In today's fast-paced, global IT environment, unplanned downtime can result in irrecoverable, long-term damage to your organization. Whether from cybercrime, hardware failure, or natural disasters, the impact of a disaster event can often be felt for years in terms of revenue loss, customer churn, or the inability to continue business operations.

Hence DR requires a targeted, bespoke solution that minimizes service disruption and protects your brand's reputation while achieving compliance.
But how does DR work?
See how CloudHPT's Gartner recognized DRaaS can protect your critical applications from unplanned downtime while achieving compliance and ensuring the long-term viability of your business.