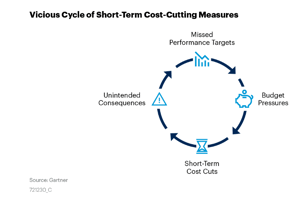 As the impact of the COVID-19 (coronavirus) pandemic spreads, executive leaders face pressure to cut costs, but it's critical to avoid a knee-jerk response. Executive leaders must avoid three cost reduction mistakes that could impede their progress – these are discussed in this report and they are:
Making across the board cuts
Stifling growth investment
Losing stakeholders commitment
The reality is that the company must be protected, even at the expense of jobs. However, the companies that will prosper will be those that look to not only reduce costs but to take initiatives with a longer time frame that optimize costs and prepare the company for growth once the pandemic ends.