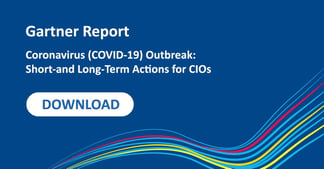 According to Gartner, "COVID-19 has disrupted operations and will have prolonged impacts on continuity of operations, modes of working and growth patterns. CIOs need to respond to the crisis with both short- and long-term actions to increase resilience against future disruptions, and prepare for rebound and growth."
As businesses in the Middle East adjust to the new realities of operating during the COVID 19 pandemic, BIOS is committed to providing thought leadership information and solutions that can help our customers navigate these uncertain and difficult times.
Our whitepaper titled 'keeping your business healthy in a pandemic' discusses solutions around unified communication and secure remote working. This week we are excited to present this thoughtful piece of research from Gartner; 'Coronavirus (COVID-19) Outbreak: Short- and Long-Term Actions for CIOs'.