When you're shopping for a managed cloud provider, there are several attributes you'll want to evaluate and keep track of. Essentially, you need to make sure that your managed cloud service can meet your company's needs reliable and consistently, with the right services and products to make your managed cloud solution painless from start to finish. Let's evaluate the top five steps you'll need to take to choose a managed cloud service provider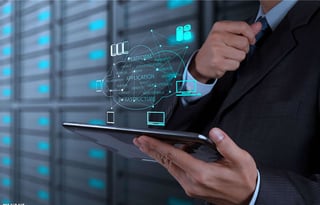 Name Your Service Requirements
You'll want some kind of in-house list of must-have services in mind as you compare managed cloud service providers. You might look for services like a private cloud for hosting data, virtual servers for running production environments or data centers for supporting compute and data processing. Depending on the type of cloud computing you're looking for, you might turn to one vendor or multiple. Ideally, try to house everything under one roof. It makes service contracts and vendor agreements far easier to negotiate and manage for yourself and your users.
Review Managed Cloud Provider Hardware Capability
Not every company needs the same thing from their managed cloud services. Based on what you determined in the last step, you'll need to determine the level of hardware capability you need from your managed cloud.
Depending on the specific services you hope to secure, you're going to need to find a managed cloud service provider that's capable of providing reliable service in that sector. Look for cloud computing providers with wide approval and strong reputations, who are well regarded by peers in your industry for providing the type of service you need. Some all-around good features include 24/7 data monitoring, in-house IT services, reliable disaster recovery systems and in-region network infrastructure. Ask about your company's specific use case: managed cloud is a highly customized business, and you'll need to provide extensive detail on your internal operations to get a reliable quote or recommendation.
Evaluate Software Support
Alongside hardware capability, you'll need to evaluate your managed cloud's software interoperability. This catch-all term refers to the application programming interfaces (APIs) supported by your cloud provider, and can mean the difference between a short change window and a drawn-out migration. If your cloud provider uses standard APIs that connect with your existing IT, you'll find the transition is an easy one. Look for support for Microsoft services, as well as the CRMs, ERPs and software suites that you use in your business.
Scrutinize Security
If the cloud has come under fire for anything, it is a lack of reliable security protocols. While ny Internet-connected device is vulnerable to a sufficiently capable and dedicated assailant, you'll still want your cloud provider to offer excellent security. A capable cloud service provider needs a suite of security protocols designed to keep your data safe and their systems operational. Ask your potential cloud providers about their internal and external security protocols to find out what's protecting your data from hardware failures, user error, operator negligence and malicious attacks.
Get The Paperwork In Order
When you determine which provider to work with, make sure you negotiate a service level agreement (SLA) that provides exactly the services you require, with benchmarks for success and consequences for failure. This contracts ensures you get what you pay for, and aren't stuck paying for inadequate or inaccessible services.
In order to maintain accountability, your managed cloud provider should produce regular performance reports, logging information like bandwidth usage, uptime and outages. This will allow you to compare against your internal IT records as well as the terms of the SLA, and make sure you're getting a fair shake.
It's crucial to assess the reliability and capability of a managed cloud service provider that you plan to entrust with your company's software and data and the above 5 steps are an excellent road map to follow before making your choice.
To speak with a managed service cloud consultant in the UAE, click here