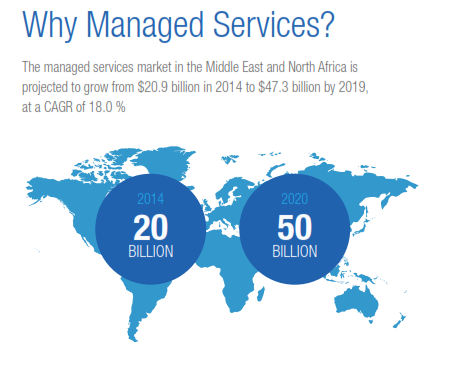 It can sometimes be challenging for CIOs, IT Directors and other Senior IT Managers within the business to get the CFO or the board's buy-in for an IT project. Many find it even more difficult when they are considering proposing a managed service model, where the third party manages the IT Service Desk and/or parts of IT support, taking over an in-house function.
The CFO will want to know what the benefits are especially in financial terms: how does it save the company money? What are the risks involved? And finally, why would using a provider be better than keeping the activities in-house? Below these issues are addressed from a CFO's perspective.
How does Managed IT Services save money?
One of the most immediate benefits of a managed IT service is cost. Expenditure related to managing the IT Service Desk can be extremely variable. It includes HR costs, sickness and holiday cover and training, as well as the design and implementation of new strategies, best practices to ensure service efficiency and continual improvement.
With a managed service, all of this becomes a fixed monthly cost, smoothing out the expense and providing known, quantifiable out-goings. It also lowers the risk profile of the service to the business with defined services metrics. The managed service provider will also take on the absence cover challenges and staff training.
What are the risks involved in Managed Services?
There is often a some concern within a company in having a third party take care of an internal function, particularly one that is viewed as the face of IT to the rest of the organization. It is important to note that with a managed service, the organization always retains a level of control over the outsourced function, which allows them to focus on strategic business decisions, rather than grappling with the day-to-day management of the service desk.
In addition the organization sets the Service Level Agreements (SLAs) and if these are not met, there are implications such as financial Service Credits back to the business. These SLAs are constantly refined and honed as the business grows and changes.
It is easy to see that, in the end, it is the Service Provider that risks the most. If they fail, the organization can find another provider or return to in-house provisioning, but for the provider, this failure will damage their reputation and affect chances of future business.

Why would using a provider be better than keeping the activities in-house?
The key benefit to using an IT service provider is that your organization benefits from their knowledge and experience of working across other sectors and the Best Practice processes and disciplines they can bring. Defined metrics such as SLAs, formal continuous Service Improvement initiatives and plans and a formal engagement structure will all help improve service levels and ultimately end-user productivity. Additional benefits include the immediate access to skill-sets and expertise which may be in short supply or not present internally.

All in all, a managed service is a cost-efficient solution that can increase an organization's competitive advantage.
There are different models which can be adopted: an organization might only outsource its helpdesk or desktop support staff, the out-of-hours function, or use the provider for looking after IT Infrastructure.

At BIOS, a large portion of our business is providing IT Managed Services from our 24x7 helpdesk and Network Operating Center located next to Burj Khalifa in Dubai. Our teams time is split between proactive daily, weekly, monthly health checks and reactive support. Our team is highly qualified and support by our field engineering team when required.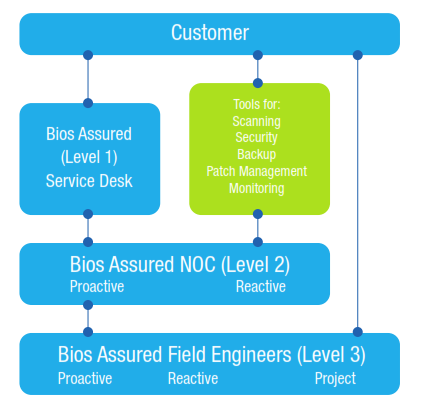 If you think Managed Services might be useful for your company why not come in and see our NOC.
Get more from BIOS, the leading cloud providers UAE:

Click here to watch what our customers have to say about us.