If you're using Microsoft 365 to enable remote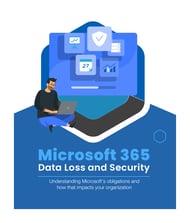 working, organize online meetings, and keep your data on the cloud, you should know that you can lose your data over a period of time if you don't perform regular data backups.

The native M365 deployment only provides a Recycle Bin for restoration, which only stores the most recent copy of the data for a fortnight, after which it is wiped from the platform and becomes completely unrecoverable.

According to the Microsoft Shared Responsibility model, Microsoft is only obligated to provide you with an online portal; the responsibility to secure your tenant and protect the data lies solely with you.To help you understand how Microsoft's obligations affect your organization and how you can avert business risks, we have created Microsoft 365 Data Loss and Security.

BIOS Middle East's Veeam backup service is a quick and cost-effective solution to keeping your data on M365 safe and secure. We have more than two decades of experience in protecting businesses and providing comprehensive protection for Microsoft 365, ensuring your critical productivity data is secure, protected, and accessible when you need it.