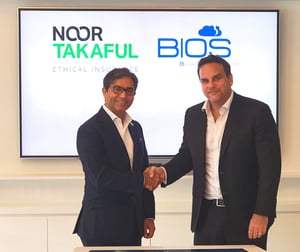 Dubai, UAE – December 15th, 2019: BIOS Middle East, a leading managed services and cloud provider in the UAE, announced that it has successfully completed Noor Takaful's migration from on premise to the cloud, to accelerate its digital transformation journey.
Noor Takaful was established in early 2009 to provide a broad range of Islamic insurance (takaful), general and customised insurance products and services to individuals, families, groups and companies in the UAE market.
Insurance companies in the UAE are required to adhere to NESA compliance; as such, the applications must be hosted in the UAE with an in-country disaster recovery. After an extensive search in the market, Noor Takaful chose BIOS Middle East and CloudHPT for the cloud migration project.
"It's an exciting time for Noor Takaful, this project was extremely crucial to take the business to the next level of growth and we're delighted to have chosen BIOS Middle East as our partner," said Rajesh Sethi, CEO of Noor Takaful | Ethical Insurance. "I am confident that we will be even more responsive and customer centric now."
An intense 3-month migration process followed, involving over 60+ engineers between application vendors, Noor Takaful and BIOS Middle East's teams, resulting in a successful migration of Noor Takaful's critical applications and data. The services delivered and migrated include domain migration, email migration to M365 with Mail Assure security and archiving from Solarwinds. The cut over happened over a weekend with only minutes of downtime.
"The insurance industry in the UAE is undergoing a profound transformation and technology is at the forefront of it. BIOS Middle East is proud to be the technology partner of choice for Noor Takaful and this complex, critical project allows us to leverage our knowledge and experience in the insurance industry to provide Noor Takaful a modern, agile and cost effective platform on which to run their business with confidence," said Dominic Docherty, Managing Director, BIOS Middle East.
Furthermore, core insurance applications pertaining to motor, life and general were upgraded, while services such as contact center, file server, UAT & test environment were all migrated to CloudHPT in Dubai, with disaster recovery delivered to CloudHPT in Abu Dhabi. Built on Cisco's Application Centric Infrastructure (ACI), CloudHPT is the only Cisco Powered Cloud in the Middle East. All servers on CloudHPT are fully backed up using Veeam and managed by a team of engineers from a 24/7 Network Operation Center (NOC) based in Dubai.
The NESA compliance mandate from the Insurance Authority made it imperative to provide a Security Incident & Event Monitoring (SIEM) service that was both complaint and cost effective for Noor Takaful. BIOS Secured, is a SIEM platform backed by a 24/7 Security Operation Center (SOC) including continuous vulnerability assessments, ensures that Noor Takaful's cloud infrastructure adheres to NESA standards.
In addition, Noor Takaful has outsourced IT infrastructure and Network operations for their remaining on premise equipment to BIOS Assured. BIOS Assured provides full managed services for all on premise infrastructure across 4 locations which is backed by an in-country 24/7 NOC for Noor Takaful. The final requirement was for end user support and this was met through a help desk called BIOS Assist. This service provides Noor Takaful with a single point of contact for all IT related issues for end users. Auditable remote access from BIOS L1 engineers ensures compliance and swift ticket resolution.
"As part of our digital transformation drive, we have successfully migrated from an on premise setup and have implemented a fully managed cloud environment to run the business," said Frederick Bisbjerg, Chief Digital Acceleration Officer, Noor Takaful | Ethical Insurance. "This modern, agile, scalable and secure cloud environment eliminates future CAPEX requirements in the process. We now have a future proofed IT environment that is compliant to the industry standards and lower running operational costs."