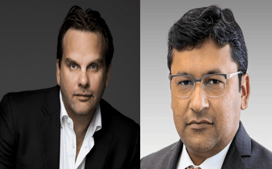 UAE Based Pure Health, the GCC's largest laboratory network has signed an agreement with BIOS Middle East, the region's leading cloud and managed service provider for hosting Pure Health's core Laboratory Information System (LIS) on CloudHPT, a fully owned and managed cloud by BIOS. In keeping with the urgency to meet the requirements, BIOS delivered over 20 servers in under two days to Pure Health for application installation and testing. Besides, BIOS Middle East is also entrusted to provide complete managed services for the servers, networking, storage security and backups to ensure that Pure Health can focus on their LIS application.
Pic (L to R): Dominic Docherty, Managing Director, BIOSME and Adnan Asif, Chief Technology Officer, Pure Health
In its emergency response to the Covid-19 situation, Pure Health IT have adopted multiple technologies to streamline operation and integrated with government entities in Abu Dhabi, Dubai and the Northern Emirates. The company currently has four dedicated laboratories in the UAE for COVID-19 testing in Abu Dhabi, Dubai and Sharjah. And, with the capacity to perform 80,000 tests daily, it is the 'largest COVID-19 testing capability in the Middle east, Africa and South Asia'.
"We are extremely happy to be a part of Pure Health's cloud journey. And, proud to have met the challenge to ensure that Pure Health was equipped with our fully owned CloudHPT and managed services to strengthen their laboratory services in the current situation. They are focused on building on their digital transformation and we look forward to supporting them with a clear, secure and simple path to the cloud," said, Dominic Docherty, Managing Director, BIOS Middle East.
"This would not be possible without us taking major IT strengthening initiatives to meet our strategic and business goals. We were looking to receive fixed pricing option and also being supported with a comprehensive service, and having met these requirements, we chose to work with BIOS Middle East's CloudHPT" said Adnan Asif, Chief Technology Officer at Pure Health
Working with some of the leading global vendors, BIOS Middle East is focused on providing a range of Public and Private Cloud as well as managed Services in the region. The company has customers from several business streams including Insurance, Fintech, healthcare, construction, Oil and Gas, Retail and more..