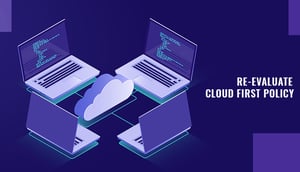 Businesses in Saudi Arabia are accelerating their digital transformation journey with the cloud with benefits such as scalability, cost-effectiveness, and flexibility associated with the cloud.

In response to the fast-paced changes and to drive a cloud-led transformation, the Ministry of Communications and Information Technology issued policies and regulations under KSA Cloud First Policy in February 2019 as part of Saudi Arabia's 2030 Vision.
The objective of the policy is achieved by making it mandatory for entities to "consider Cloud options every time a new IT investment decision is made, in line with the policy guidelines, processes, and governance as defined in the Cloud First Policy."

This policy is aimed at improving the efficiency and cybersecurity structure of operations and reducing the total cost of ownership. This is also in alignment with the Cloud Framework issued by the Communications & Information Technology Commission (CITC), which is aimed at providing increased regulatory clarity along with encouraging businesses (private and public) to adopt cloud computing with the registered cloud computing service providers.

As a result of this, a number of Saudi-based businesses have also started adopting the cloud to enhance their operations, cost savings and bring about digital transformation. With the implementation of the Cloud First Policy in KSA, the country is expected to generate a CAGR of 35.5% by 2030 in the cloud computing market.



Benefits


With the implementation of the Cloud First Policy, KSA will witness benefits like:
• Increased quality of service due to agility, flexibility, scalability, and innovation in the cloud
• Improved IT utilization and reduce duplications in IT spending, lowering the total cost of ownership
• Enablement of interoperability between entities
• Improved cyber security posture by choosing best-in-class cloud service providers that meet the highest security standards

Secure and compliant clouds such as CloudHPT can help add to the benefits of the cloud for your business or enterprise. CloudHPT has undergone the stringent audit processes of IAR, SAMA, NESA, and ADHICS and was found to have the required controls implemented. Today, we have over 10,000 workloads running on CloudHPT, meeting the different compliance regulations of the healthcare, education, legal, and finance industries.



Make the most out of the cloud with CloudHPT


With the KSA moving rapidly towards digital transformation with cloud computing, it's time for your business to make the most of the cloud with BIOS Middle East's CloudHPT, GCC's first Certified Cisco Powered Cloud provider for IaaS and DraaS. Our solutions are built on High-Performance Technology (hence HPT) and have footprints in Riyadh, Jeddah, Abu Dhabi, Dubai, and Muscat.

We offer customers and partners a road map to the Cloud which will reduce IT costs by 50% and eliminate future CAPEX expenditure with a highly secure and elastic platform that is housed in the GCC's best data centers with a full managed service wrap-around.

Accelerate your business with a Private, Hybrid, or Public High-Performance Cloud in the GCC. Check out for IAAS COMPARISON GUIDE.